Company Profile
Feroleto Steel Company, Inc., founded by Frank V. Feroleto in 1958, processes flat rolled steel for companies large and small. In December of 1990, the company became a wholly owned subsidiary of Toyota Tsusho America, Inc. Since the acquisition, Feroleto has expanded to Knoxville, TN and Weirton, WV to meet customer's needs.
Feroleto specializes in value added products and maintains close

ties with vendors and customers in order to maximize value to customers. The company is financially strong and built around servicing customers' needs.
Feroleto adheres to the highest safety and environmental standards in the industry. We have earned, rightfully so we believe, the reputation as a knowledgeable, respected and responsible business partner.
Philosophy
Feroleto continues to strive for the superior quality and service that our founder, Frank Feroleto established. Attesting to this are many current employees who have been with the company since its early beginnings. Feroleto is committed to providing high quality products, exceptional customer service and superior delivery performance. We operate on a foundation of knowledge, commitment and professionalism. Our facilities and operations ensure that we provide solutions for customers each and every time.
Products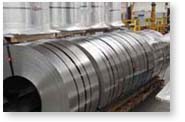 Feroleto products are ideally suited for use in a number of markets and an extensive range of applications including automotive, electrical, appliance and specialty deep drawn applications. Customers may order products in a variety of tempers, thicknesses, gauges and widths to meet their needs and requirements.
Our Employees
Customers report that we always go the extra mile. At every level, our management , support and production staff establish relationships to add value to our customer's business and contribute to their success.